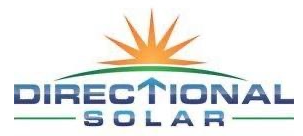 Create Your Own Power
with a System You Own
Tired of paying your ever increasing power bill? There's a better option!


✅ Zero money down!
✅ Payment is less than power and never goes up!
✅ Get up to 55 percent back on your taxes.
✅ Current promotion provides an incentive of $500 at install!
Quick Eligibility Check:
Complete the form below to lock in the promotion and make sure your home qualifies for the Directional Solar program
A lot of people don't realize it, but energy is cheaper to generate with solar than traditional energy sources.

✅ Save money every month compared to your current electric bill
✅ No upfront costs and instant savings
✅ Huge tax incentives from state and federal
✅ Positive effect on the world we live in
To learn more about solar energy and to get a free solar assessment, click the button below.
We never share your information outside our organization.
Copyright 2020| SocialSolar.com + Directional Solar LLC